Our Wedding
May 29, 2004
Text Excerpted From Will's Journal, June 10, 2004
& Pictures Collected From Various Guests
On Saturday, May 29, 2004, Lea and I were married at St. Gregory's in Dorchester.
Saying things like that still sound funny to my ears, but I'm slowly getting used to it. Whenever I think about it I find myself looking at the ring and laughing... It's hard to believe that the wedding has already come and gone. Even though we've been preparing for over a year now, it didn't seem real to me until halfway into the rehearsal the day before, and afterwards nothing seems any different.
Everything went amazingly well.
I spent most of the week beforehand working and going about my business as usual. I took that Friday, the day of the rehearsal off. My best man, Bri came up from DC with his girlfriend, Erin, and I picked them up to meet my good friend Alan (who had recently arrived from LA) for lunch. It was like old times. We ran our pre-wedding errands and ran out to the church for the rehearsal, where we met up with the rest of the wedding party. The rehearsal went smoothly and we all headed out to meet our out of town guests at the rehearsal dinner, which my father was hosting at a room at Gourmelli's in downtown Boston.
Me, ready to go...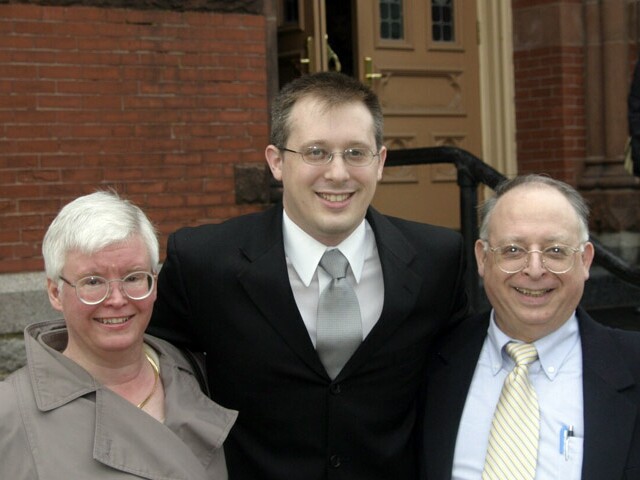 Me with my parents...
With Bri...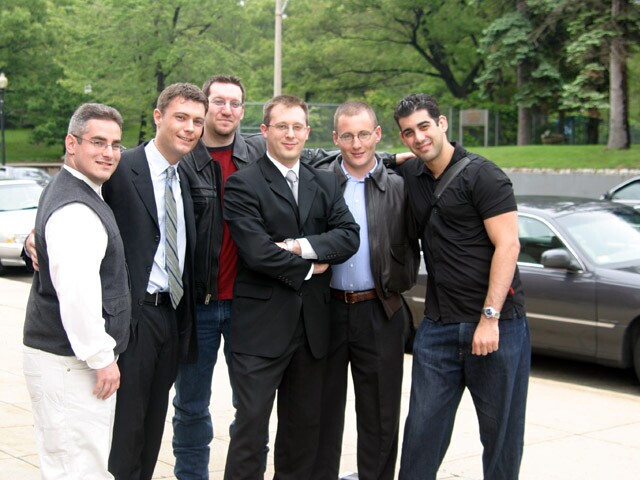 With all of my ushers (except for Robert, who was running late)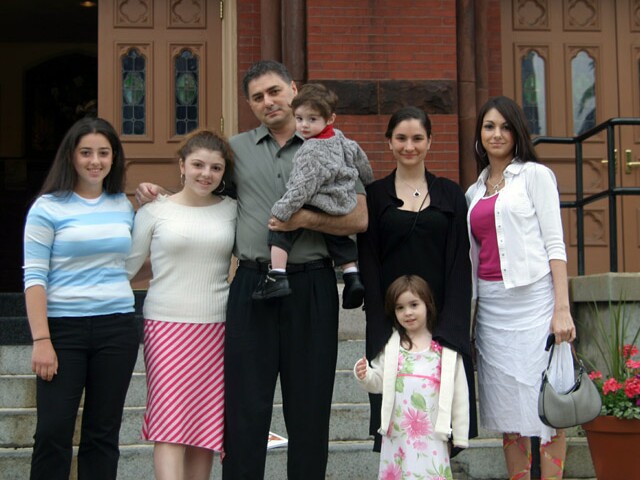 Lea with her family
The place has an amazingly good buffet, which allowed us a lot of flexibility. The crowd was an interesting mix... most of them were either friends associated with the wedding party or my Dad's side of the family (which all lives out of town), but there were representatives from every branch of both of our families. My dad, Bri, and myself all got up to say a few words, and Bri did a particularly good job. Lea went to her parent's house for the night and I had a few drinks back at my place with the guys (and some Tekken with Alan). All in all it was a great time and I went to sleep wondering how the wedding could top a night like that.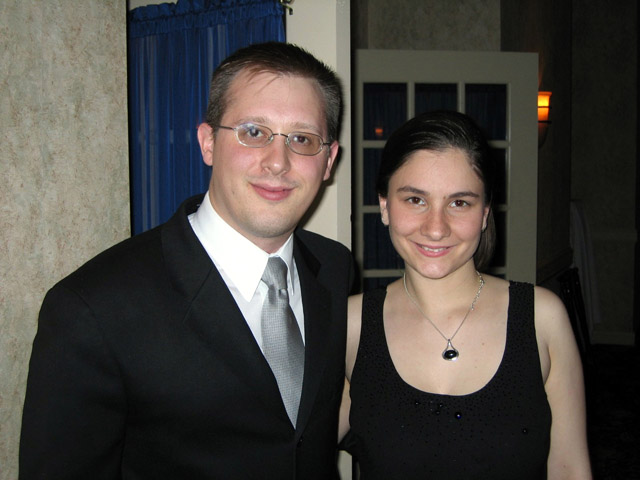 Me and Lea at the Rehearsal dinner at Gourmelli's
Bri giving his speech.
Me, giving mine.
Bri with Erin.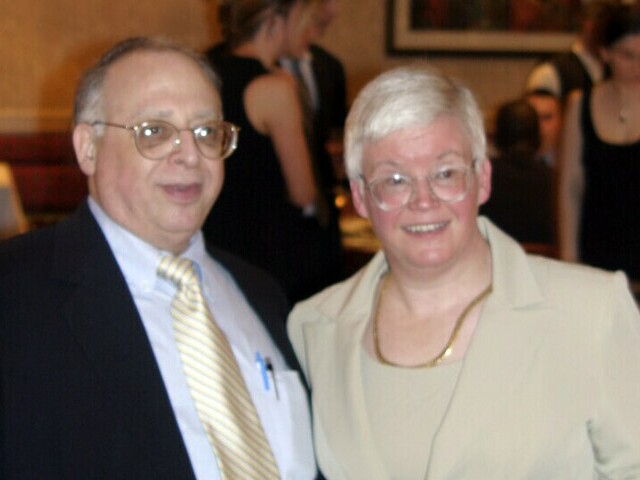 My parents.
The next morning I woke up feeling nervous about the wedding for the first time. It wasn't that I was having second thoughts or awed by the significance of the whole thing so much as I realized how much work had gone into the day and didn't want to screw anything up! I met up with my groomsmen at Lea's Uncle Tony's place to prep for the ceremony, and things came together pretty smoothly, aside from two wrong-colored handkerchiefs that we replaced without much trouble. I passed out some nice Kershaw folding knives to thank my groomsmen, but it really wasn't enough for all the work they did to hold things together for me. Things were a bit more chaotic on Lea's end, apparently, with rampaging toddlers on the loose at her parent's house. In any event, we both made it to the church at our designated times.
Me and my ushers, ready to go.
The place looked fantastic. It's a pretty church to begin with, and with the flowers and decorations up it was simply perfect. Bri did his best to keep me occupied while the groomsmen seated our guests, but when the music started my composure started slipping. The music was just overwhelmingly beautiful and I was as emotionally charged as one can be. I tried pulling myself back together, but as I peeked out and saw my parents walk down the aisle together I was just awed by the beauty of everything-- my parent's obvious love for each other, my gratitude for all that they'd done for me throughout my life and this day in particular, the majesty of the ceremony itself, and my joy in marrying Lea, the girl that I love... It was all too much to bear.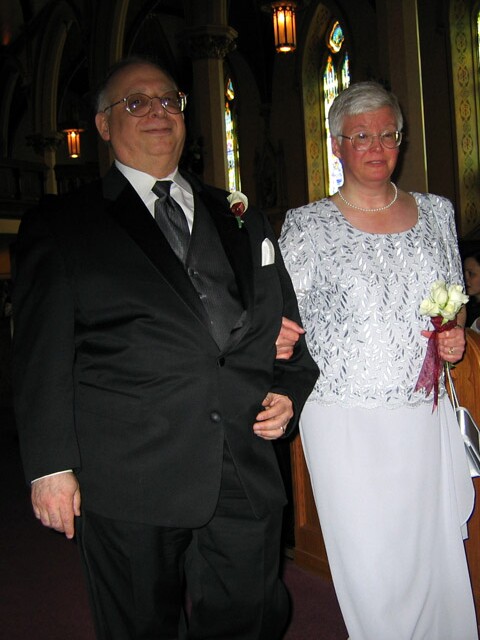 My parents going down the aisle.
I was able to get myself back together long enough to follow Bri out to my place at the altar, but when the wedding party came down the aisle I started feeling overwhelmed again. This time I was thinking about the friends in my life, around forty of whom were with me then and there to witness the most important day of my life and share my joy. It was unreal.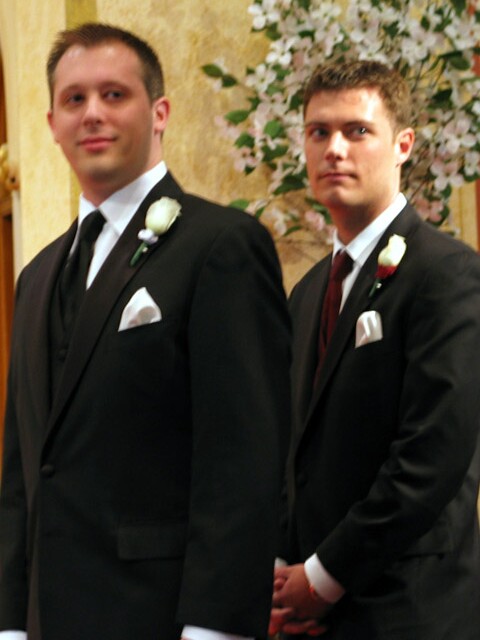 Waiting at the altar.
When Lea and her father made their way to the altar it took every ounce of discipline I could muster to stay on my feet. Lea looked amazing, and her father's face just radiated love for her and pride. The slow march and ceremony of their procession only amplified the feelings welling up inside me. I can only imagine the faces I made while I tried to hold back my tears.
Lea's father bringing her down the aisle.
The ceremony itself was a blur. We knelt and faced the altar while Lea's brother, Nick, and cousin, Lia, did readings. Father Ryan gave a sermon from one of the gospels and told a touching story about a couple he'd known. Although I'd had some reservations about the religious ceremony, I now see why Lea wanted Father Ryan to perform the ceremony. His voice was strong, his presence was comforting, and his sense of humor was calming. By the time he had Lea and me face each other, I felt somewhat composed, although that didn't last long into our exchange of vows. I'm not sure how Lea managed to get the ring on my finger, but I doubt that I'll ever get the thing off :) I suspect a conspiracy between her and the girl at the jewelry store to get me into a ring one size too small... The one mistake in the ceremony was that there was no kiss at the end. I'm not sure if we missed our cue or if Father Ryan never gave one, but we were starting down the aisle before I realized.
I made good on that debt later :)
Exchanging vows.
"Presenting Mr. and Mrs. William Serwetman..."
Walking back down the aisle with Lea.
After going through the receiving line, we did some posed photos and then headed for the hotel, making a few stops on the way. Most importantly we stopped at Lea's aunt's house to visit her grandmother, who was unable to attend. We had a few photos taken at the Christian Science Center and then rejoined the wedding party at a waiting room adjacent to the reception hall. We hung out, relaxed a bit, and drank some champagne until the cocktail hour ended and the reception began.
My father, as happy as I've ever seen him.
The full wedding party
Me and Lea.
Me and Lea with Margie, the Maid of Honor, and Bri, my Best Man.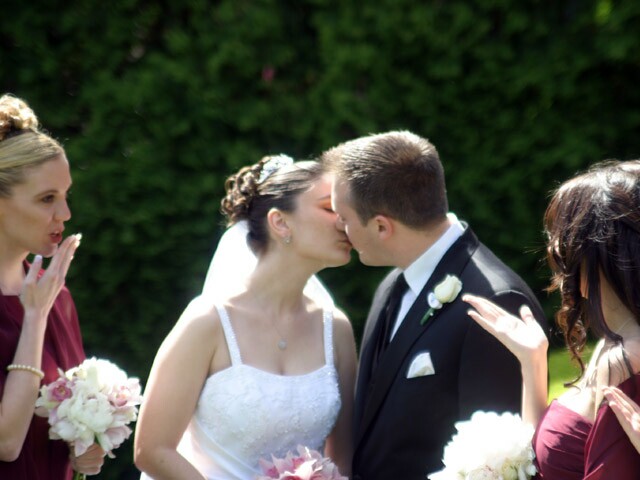 Me and Lea posing with the bridesmaids.
Me and Lea with our parents at the hotel.
Me and Lea.
Upon making our grand entrance, Lea and I had our first dance together to Sinatra's "The Way You Look Tonight." All I can say is that the lessons paid off, and we looked good. Our foxtrot style is strong!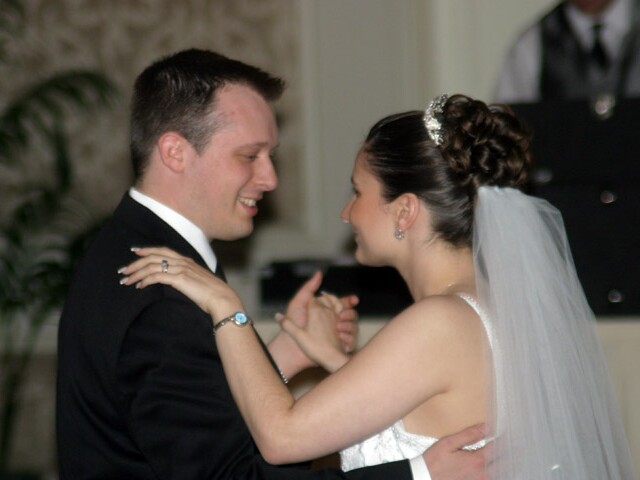 Starting our dance.
Finishing our dance.
Our mother/son, father/daughter dance.
The reception was the kind of party you only get to throw once in a lifetime. Lea and I spent a lot of time going from table to table, greeting everyone at the 23 tables. We took our time with it and had a lot of fun. Our families and friends are all great people, and it was a pleasure to see every single one of them. Lea and I are both proud to join each others' families. As we went around it was particularly gratifying to see everyone having such a good time. The seating chart worked out well, the food was perfect, the music was fun ("DJ Spinelli" played lots of old school hip hop towards the end of the night), and it seemed like everyone got up and danced. For our going away dance, the DJ played the Muppet show Theme song, which people got a kick out of.
Bri delivering his speech.
Cutting the cake.
Some of the family.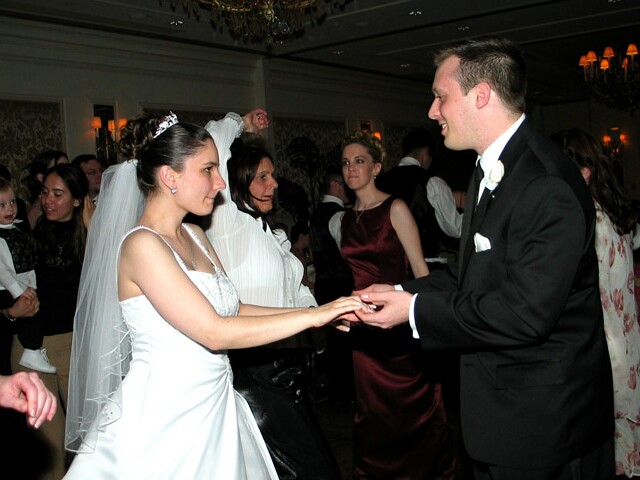 On the dance floor.
At the end of the night Lea and I found ourselves surrounded by dozens of friends, each of whom came up to congratulate us before they left. I did my best to thank all of them for coming. No one in the world has more sincere, caring, loyal, and interesting friends than Lea and I, and the wedding really drove that point home. I hope to see a lot more of everyone this summer.
---
See Our Honeymoon Pictures
Back to the Pictures Page